Alumni Spotlight: Karina Wong is Driven to Serve Others at 'Full Force'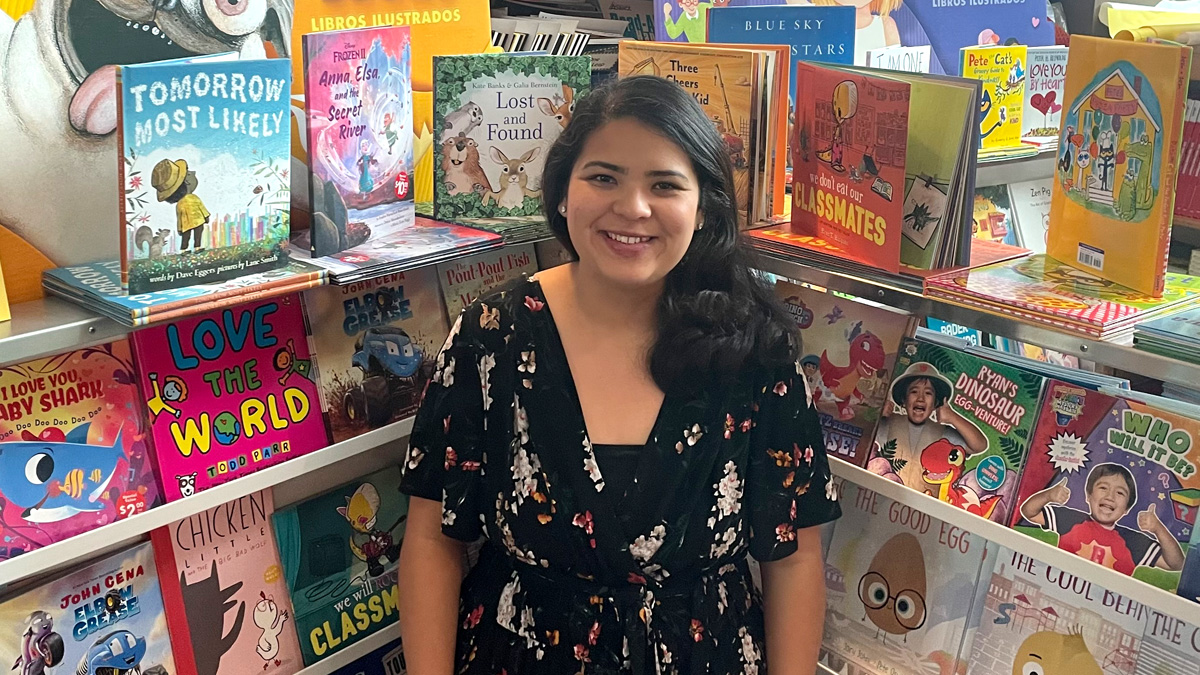 To talk to Karina Wong ('15,'16, '17) is to catch a glimpse of her boundless energy. Whether she's discussing her career as a bilingual educator, her prodigious work in the community, or raising her two young children, the alumna of San Diego State University exudes seemingly inexhaustible enthusiasm.
One wonders how she finds enough hours in the day for it all.
"I make time," Wong explains. "This is my life's purpose. And if I'm living my life's purpose, I'm going full force."
In the classroom, going full force means helping students reach their full potential at Valley Elementary, a bilingual school in Poway Unified School District. As an Impact Teacher, she teaches part-time in the classroom of a full-time instructor, specializing in the English and mathematics portions of the curriculum.
Wong particularly relishes reaching students who need literacy support. Her favorite part of the teaching day happens in the afternoon when the focus turns to helping her students become confident readers. She also currently works with a student that is battling Leukemia, being both academic support and emotional support for the family.
"I quickly eat my lunch so I can get right to it," Wong said. "It's amazing to see their growth and watch them discover potential that they didn't know they had."
Wong is a passionate advocate for the importance of reading in her volunteer work, as well. She serves on the board of the Friends of the San Diego Public Library and as president of the Mission Valley Library chapter. Wong also chairs the John McAllister Memorial Library Scholarship, which supports library staff studying to become librarians.
It all harkens back to her upbringing in the Imperial Valley border community of Calexico, where her mother would often take her and her sister to the library as a safe place and a place to beat the desert heat. Among the stacks, her imagination was captured by children's literature classics like the "Josefina: An American Girl" and "Captain Underpants" books. Love for literature was further fostered by her teachers.
"I think Calexico formed me by giving me that ganas — grit — and I think that goes back to my educators," Wong said. "I'm sure they knew I was low-income, because they would give me books. My fifth-grade teacher would give me chapter books. They saw something in me that I yet didn't know was there. So that's what I do with my students now."
Wong left the Imperial Valley after high school to attend SDSU's Montezuma Mesa campus. But her desire to serve soon brought her full circle. Wong took a position with AmeriCorps performing reading interventions with third graders back in her home community — a detour that led her to finish out her liberal studies degree at SDSU Imperial Valley.
She returned to San Diego to earn her bilingual credential in the Department of Dual Language and English Learner Education (DLE) — a program she completed while pregnant with her first child. She went on to complete her master's degree in Master of Arts in Teaching (MAT) in Elementary Education.
"The courses I took in DLE are still in my mind," Wong says. "All the classes are amazing and the faculty are really strong. I am very fortunate in having such strong SDSU professors who became my mentors, such as Stacy Bodus, Dr. Sandra Kofford, Dr. Sera Hernandez, and Dr. Lupe Buell."
In fact, it was Buell who connected Wong with another of her major volunteer outlets — MANA de San Diego, a nonprofit that empowers Latinas through education, leadership development, community service, and advocacy. Wong, who was able to make her way through SDSU thanks to timely scholarships and grants, now serves as the MANA de San Diego scholarship committee co-chair.
"When I read through the essays, it's great to see all those SDSU students that we're providing scholarships for," she says. "Not long ago, I was that student — just trying to finish and become a first-generation college graduate."
As if that wasn't enough, Wong also stays active with her alma mater as a board member and Vice-Chair of the SDSU Children's Center, where her youngest child attends.
When it comes to making a difference for others, her energy appears to have no limits.