Harris Honored With Beacon of Racial Equity Award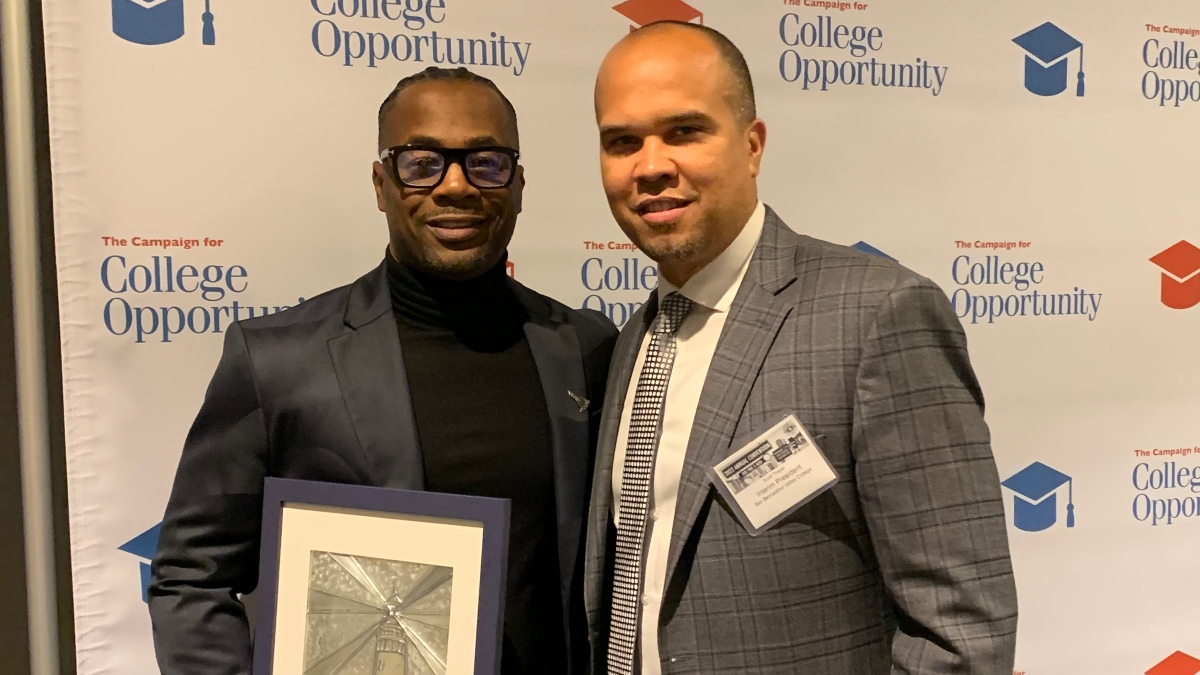 Frank Harris III's work to advance equity in higher education recently earned plaudits from a major statewide organization.
Harris, a professor in San Diego State University's Department of Administration, Rehabilitation and Postsecondary Education (ARPE) and the College of Education's interim associate dean for diversity, equity and inclusion, was recently named a 2022 Beacon on Racial Equity by the Campaign for College Opportunity.
The California nonprofit, which focuses on college opportunity and success, presented the awards in partnership with the California Community Colleges Organización de Latinx Empowerment, Guidance, Advocacy for Success (COLEGAS), the African American Male Educational Network and Development (A²MEND) and Asian Pacific Americans in Higher Education (APAHE). Harris and other community college leaders and advocates were honored on Nov. 18 at the Community College League of California's annual convention in San Francisco.
"The Campaign for College Opportunity has a huge impact on education policy, both in K-12 and higher ed," Harris said. "So it's always a humbling thing when you're recognized by your colleagues and people that you respect. You don't do the work for that reason of course. You do the work because the work is important to do. But you can't help but be honored when that happens."
Harris is co-director of the Community College Equity Assessment Lab (CCEAL), a national research laboratory that helps community colleges to identify and address systemic barriers to equity at their institutions.
"I want to give a shout out to my colleagues, particularly (co-directors) Luke Wood and Marissa Vasquez, because all the racial equity work I've done in the college is done in collaboration with them," said Harris, who also praised the support of College of Education Dean Y. Barry Chung.
"I also want to acknowledge my wife Dr. Tina King, who is a community college president," he added. "So I feel like I get some free advice and free counsel every day."
This is Harris' second major honor of the past few months. In August, he earned SDSU's Alumni Association Award for Outstanding Faculty Contributions.