Dietz Family Goes to Bat For COE Graduate Students Impacted by Cancer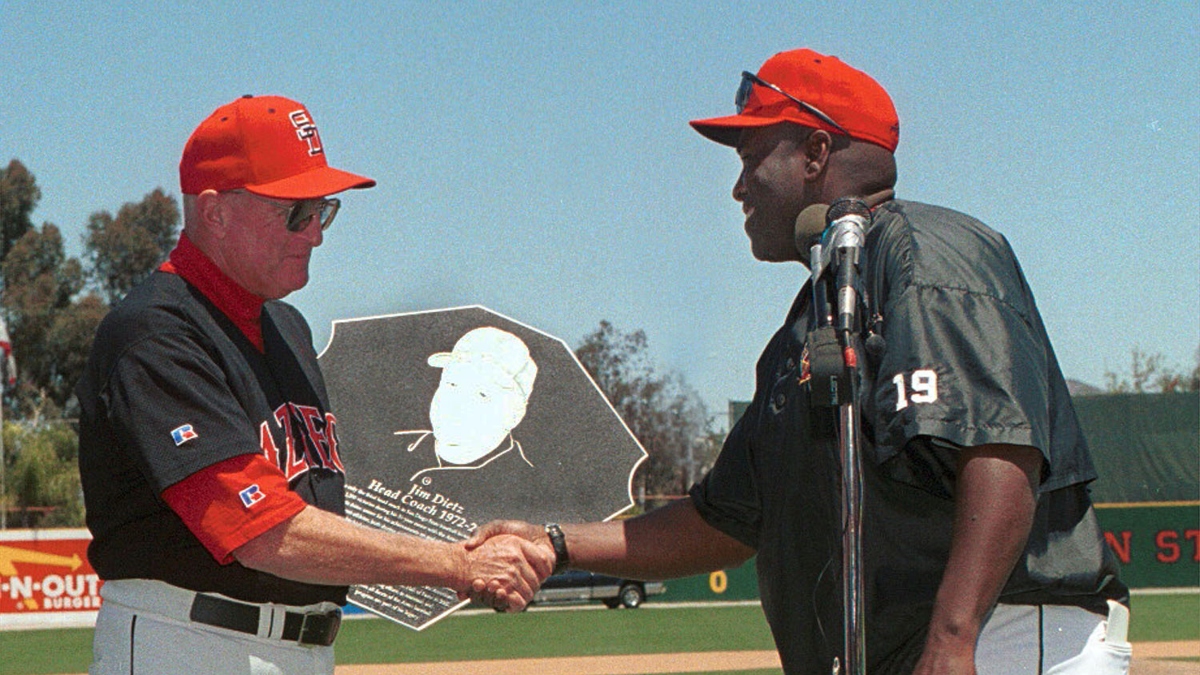 Jim and Carol Dietz already hold a special place in San Diego State University athletics history.
Now they have left a lasting legacy in the SDSU College of Education, as well.
Longtime Aztecs fans know Jim, who died in March at age 83, as the head coach of the baseball team from 1972-2002. He won 1,230 games at SDSU and sent dozens of players — including Hall of Famer Tony Gwynn — to the Major Leagues.
Those around the program also fondly remember his wife Carol, a mainstay at the ballpark who ran the concession stands during games and helped give Aztecs baseball a family atmosphere.
"It was such an amazing place," said Carol, via phone from her home in Florence, Oregon. "We met so many of our friends through San Diego State. He got to coach amazing kids and, through him, I got to know the kids too. I just can't say enough about our time there — it was really wonderful."
The newly-launched Jim and Scotty Dietz Endowed Scholarship honors two lesser-known — but deeply significant — aspects of the Dietz's story.
Created by the couple and a matching donor, the new scholarship will support students pursuing graduate degrees or teaching credentials in the College of Education who are being treated for a cancer diagnosis or who have been affected by the disease in some way.
The cancer focus is a tribute to their son, Scott, who passed away from Leukemia as a Kindergartener in 1979. Carol adds that they were inspired to create the scholarship by reading an alumni magazine article about the creation of the Wallace Shatsky Blackburn Courage Through Cancer Fund, which was created by former Aztecs women's basketball star Tammy Blackburn to support SDSU students impacted by cancer.
The education focus was chosen because both Jim and Carol had a background in the field. Jim was a high school guidance counselor early in his career, while Carol, a deaf education major in college, worked for a time as a preschool teacher.
"We thought that would be the perfect vehicle," Carol said. "We could honor both Jim and Scott. That kind of became the impetus for starting the fund."
Carol added they chose to gear the scholarship toward graduate students because undergraduate scholarships are more plentiful and because more advanced students are often managing more responsibility in their personal lives.
"We felt that older students knew themselves better and probably were hungrier for their degree," she said. "Also in many cases there's an added burden of maybe being married or having a family. (It's difficult) to be dealing with a cancer diagnosis on top of it all."
If you would like to honor Jim and Scotty Dietz and support students impacted by cancer, you may make a tax-deductible donation to the Jim and Scotty Dietz Endowed Scholarship. This gift is being matched to support students impacted by cancer.
Gifts of all amounts influence student and faculty success. To learn more about making a difference through philanthropy, please contact Megan Beardsley, director of development, at [email protected] or 619-594-2277.