ALUMNI SPOTLIGHT: A New Teacher Builds Connections, One Student at a Time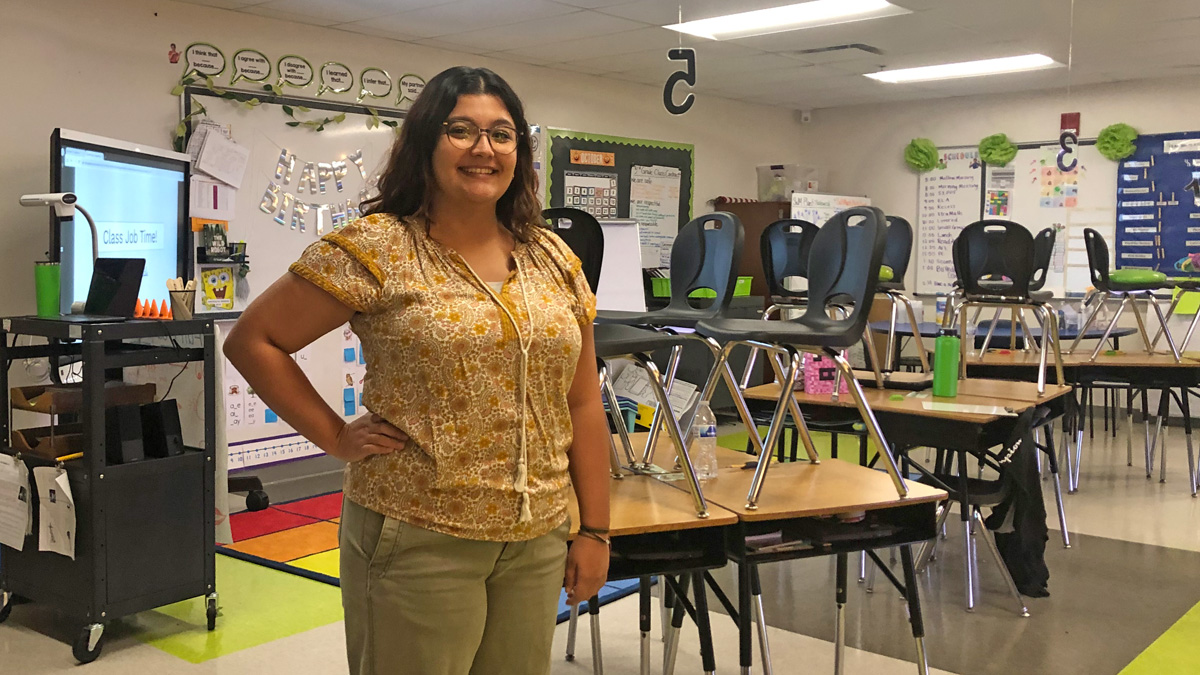 It's the little moments that remind Alexa Lawrence that she chose the right profession. Not that the San Diego State University alumna ('22, Liberal Studies ITEP Pathway) has had much reason to doubt it.
Early in the school year, the newly-minted teacher at Hawking STEAM Charter 2 School in San Ysidro noticed one of her third graders struggling mightily in reading, writing and math. Lawrence, who strives to celebrate all her students, was looking for an opportunity to build the girl's confidence.
A recent science test proved to be just the thing.
"I was typing for her because I didn't want the typing to be a barrier to her getting the answers right," recalls Lawrence. "And she was on fire with the answers. She was getting all the vocab words, she was answering in full sentences. I was about to cry. To see her shine like that, it gives me goosebumps right now. I remember telling her, 'Tell your mom you did a great job.' She said 'I will!'
"I want her to be confident. I know she watches other kids be confident in reading and writing and she doesn't see that in herself. So I was like, science — this is it!"
For Lawrence, having her own classroom is the fulfillment of a dream that goes back to childhood in Lemon Grove when she used to teach lessons to her meticulously-arranged stuffed animals. Her father and grandmother were teachers, and Lawrence has tutored and volunteered in more classrooms than she can count.
As a student at Helix High School, she was president of the Educators Rising Club, founded by Helix teacher and SDSU School of Teacher Education lecturer and cohort leader Eric Ginsberg.
"I love it — this is exactly what I wanted," she said. "The kids are great. I have 21 in my class, so it's not too overwhelming and it's been amazing getting to know each and every one of them."
Lawrence was able to realize her dreams of becoming a teacher in just four years thanks to SDSU's Integrated Teacher Education Programs (ITEP), which allows students to earn a bachelor's degree and teaching credential concurrently. A member of SDSU's first graduating ITEP cohort, she said that the accelerated nature of the program — requiring about 18 units per semester — was intense, but well worth it.
"For me it was about getting through faster and getting into a classroom faster," Lawrence said.
I think it really prepared me for this, especially by getting student teaching experience sooner. That real life experience with students has been great for me."
"ITEP is for students who know that teaching is what they want to do," she added.
The program also instilled the value of getting to know her students as individuals and building relationships. Lawrence said she makes it a point to learn about her students' likes and dislikes, family situations and lives outside of school.
And by teaching in the San Diego border community of San Ysidro, where the vast majority of students are Latinx and many are transborder and English learners, Lawrence is also learning more about herself.
"My mom is Hispanic and my dad is white so I come from a mixed family," she said. "I feel like there are times when I'm not as connected to my own Hispanic culture as I would like to be — I don't speak Spanish. So being down here with these students, I need to teach myself things, and the kids are teaching me so much.
"We just had Hispanic Heritage Month, and I wanted to know as much as I could so I could help them understand our culture. I wanted to make sure I was building those connections with them from the beginning."
Learn more about the ITEP pathway at teach.sdsu.edu.