Visiting Scholars from Spain and China Join COE Community
Laura Monsalve Lorente will examine education policy and curriculum while Jiaqi Zhang will boost digital marketing at the Chinese Cultural Center.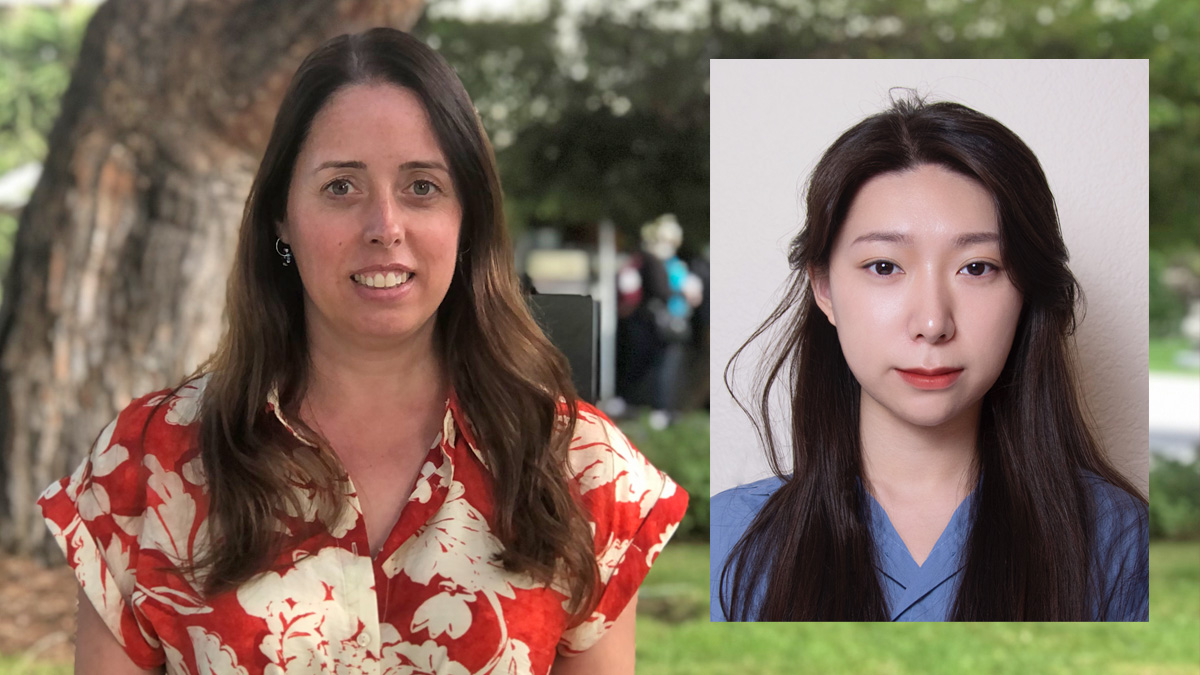 The San Diego State University College of Education welcomes two international visiting scholars who will be part of our college community for this academic year and beyond.
Laura Monsalve Lorente comes to SDSU from Spain where she is associate professor at the University of Valencia. She is sponsored and mentored by Cristina Alfaro, associate vice president for international affairs, and will be co-mentored by Cristian R. Aquino-Sterling, COE's director of international affairs and associate professor in the School of Teacher Education.
Jiaqi Zhang, who comes to SDSU from Henan, China, is sponsored by Li-Rong "Lilly" Cheng, director of the Chinese Cultural Center. An expert in visual and digital media design, Chinese Language and Culture and intercultural communication, Zhang assists the center with its digital marketing efforts.
Learn more about COE's new international scholar professionals:
Laura Monsalve Lorente
It has been a whirlwind first two months at SDSU for Monsalve Lorente, who has spent much of the time getting her husband and daughter, who recently entered the 11th grade at a local high school, situated in the U.S. And just last month, she returned to Valencia to successfully complete an exam to earn a tenure-track professorship–what the academy in Spain refers to as "Profesora Titular."

She is now excited to dive into her role as a visiting international scholar — a position she will hold at SDSU for two years, funded by the Department of Education of the Government of Spain.

Monsalve Lorente's research has focused on curriculum design and education policy, with a particular interest in curriculum change considering the United Nations' Sustainable Development Goals, as well as gender gaps in science, technology, engineering and mathematics (STEM). While in the U.S., Monsalve Lorente also plans to examine how U.S. education policy impacts Latinx underrepresentation in STEM.

"It's interesting, because at first sight it seems as if we are dealing with different problems in different countries…. In Spain, for example, underrepresentation in STEM is mostly about gender — but in the end and across national contexts, we are dealing with the same issue: mainly, the problems of inequality," said Monsalve Lorrente, who expressed interest in connecting with SDSU faculty conducting research along similar lines.
With Aquino-Sterling, Monsalve Lorrente will engage in a program of interdisciplinary studies on the politics of curriculum for 21st century societies in light of significant contemporary national and international challenges and exigencies.

Monsalve Lorente already has a notable SDSU connection in her background. She was previously a visiting scholar in 2015 and 2017 at the University of California-Davis under the mentorship of current SDSU President Adela de la Torre. She was also a Fulbright Postdoctoral Fellow at Davis in 2019.
Jiaqi Zhang
Zhang is passionate about using technology to help people from different cultures understand each other better — and what better place to do so than the Chinese Cultural Center, a COE-based hub focusing on international and binational awareness.
"If I can help people in America learn about China, I think that's very good," Zhang said. "People are people, no matter what country you are born in. I think if we can communicate more and understand more, it will be a more peaceful world."
Zhang's expertise in intercultural communication was developed during a master's program in South Korea, where she lived for eight years. She also worked professionally in China, creating video and social media content.
Her time abroad, she said, was an eye-opening experience that fueled her desire to expand her horizons further.
"Where I grew up in China, everybody was Chinese and had Chinese culture," Zhang said. "When I was in Korea, I was around so many people from so many different cultural backgrounds. So I think by coming here, I'm hoping to meet different people.
"It's a new world, and if you always stay in the same place, it will be less interesting."