Karen Myers-Bowman, Ph.D.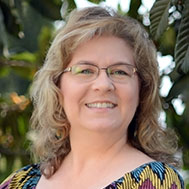 Senior Associate Dean
College of Education
Contact
Professional Biography
Dr. Myers-Bowman is a family scientist specializing in family life education. Her research interests include parent-child communication – especially about difficult topics such as war/peace and sexuality; families across cultures; human sexuality and sexuality education; qualitative research methodologies; and effective teaching methodologies.
She is presently conducting a multi-national study on the experiences of high school exchange students and their families of origin as well as families who host exchange students. This study is designed to build a body of knowledge about this important international effort that can help guide the development of evidence-informed best practices.
During her career in academia at North Dakota State University, Kansas State University and now at San Diego State University, Dr. Myers-Bowman has taught many courses.
At the undergraduate level, she has taught parent-child relationships, human sexuality, early childhood curriculum and guidance, human sexuality, children and families across cultures, adolescent development, working with parents, family life education, and she supervised students in their internships.
At the graduate level, courses include life span human development, family life education, family studies, human sexuality, delivery of human services, qualitative research methods, professional issues in family studies and human services, and family theory development.
She also has shown a significant commitment to working with students as they complete their degrees. For example, she has served on over 150 graduate student supervisory committees.
Read More…
Personal Biography
Dr. Myers-Bowman grew up in Elgin, Illinois, a suburb of Chicago. Before moving to San Diego in the summer of 2017, she spent her life in several places in the center of the U.S. - Illinois, Indiana, North Dakota and Kansas. She met her husband (Clay Myers-Bowman) while they were students at Manchester College in North Manchester, Indiana. They have two adult biological sons and have hosted many AFS high school exchange students from around the world. She enjoys music, theater, traveling, reading, spending time outdoors, and social events with friends and family.
Ph.D. Child Development and Family Studies, Purdue University, 1994
M.S. Child Development and Family Studies, Purdue University, 1992
B.S. Psychology, Manchester College, 1986
Effective educational methods in multiple environments
Families in cultural context
Family Life Education
Human sexuality/sexuality education
Parent-child communication/ parent education
Qualitative methodology
Certified Family Life Educator (CFLE)